Manufacturers Series Positioners
Share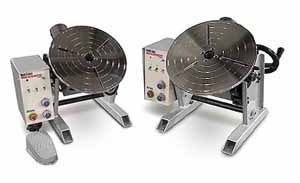 Offered at a very competitive price, Red-D-Arc's new RDA FHV220-M NA and RDA FHV440-M NA Manufacturers Series Positioners provide 360° rotation with 120° forward tilt to position weldments for better down-hand or automatic welding and safe, trouble-free operation. These small, portable positioners are driven by worm-gear reducers and controlled using a standard forward/stop/reverse, variable-speed control. RDA FHV440-M NA tilt is controlled using a hand crank and has a horizontal load capacity of 440 lb (200 kg). The RDA FHV220-M NA offers manual tilt and 220 lb (100 kg) horizontal load capacity.
The RDA FHV220-M NA and RDA FHV440-M NA are available for sale only and include Red-D-Arc's industry leading 3 year warranty. We have an extensive inventory of units available for immediate delivery.
Contact sales to learn more. Welding chucks are also available to accommodate your requirements.